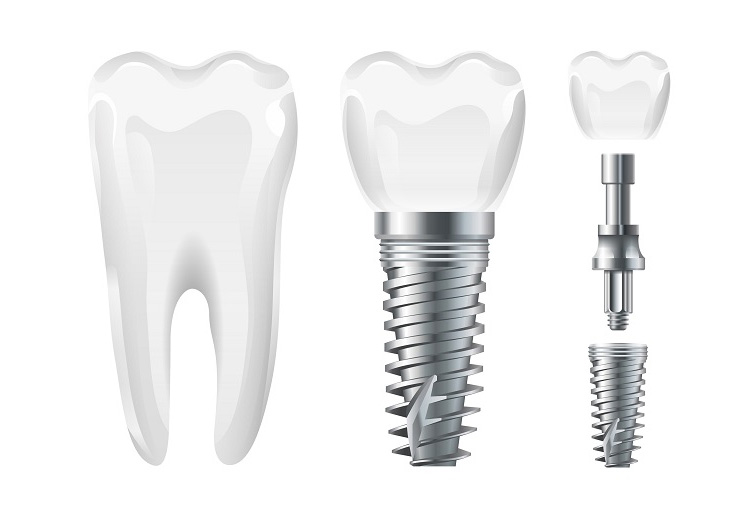 Dental implants are highly-recommended tooth restorations used for replacing missing teeth. When your dentist extracts your tooth, the options to replace it will be stated, among which the most popular ones are dental bridges and implants. While a bridge is a comparatively simpler option, implants offer excellent features that bridges do not.
Why choose implants?
Implants are the most popular recommendation by dentists to replace a single missing tooth. Here's why:
Implants are inserted into the jawbone. They can be used for holding different types of restorations such as crowns, bridges, dentures, etc.
An implant stud has screw-like grooves on its surface. These grooves help to hold the implant firmly in place and keep it from slipping off or getting displaced.
The grooves on the implant hold the jawbone intact. They prevent bone deterioration that could occur after tooth extraction.
The implant stud is made from a highly durable and robust material such as Titanium. It will remain as good as new even after several years of continuous usage.
In comparison to other alternatives, implants offer excellent longevity, strength, stability, and enhanced functionality. Patients will be able to bite and chew food as they used to earlier with implants.
How is the procedure done?
The dentist will conduct a thorough diagnosis of the mouth to determine your candidacy for the implant. Scans and x-rays will be taken to determine the positioning of the adjoining teeth, jawbone health, space available for placing the implant, etc. The scans will be used to fabricate a ceramic crown in a dental laboratory using tooth-colored, dental-grade material.
The dentist will make a small hole in your jawbone right under the missing tooth. The metal implant stud will be placed in it and secured firmly in place using dental cement. It usually takes a couple of months for the implant to adhere to the jawbone and the gums to regrow around it. During the next appointment, the ceramic crown will be placed on the implant, checked for a perfect fit, and bonded in place using dental adhesives.
To know more about dental implants, please schedule an online appointment with our dentists or call us at (650) 780-9439, and we will be happy to help. We also serve areas of Redwood City, Menlo Park, Atherton, and Foster City.